LED Illuminated Signs Atlanta
From conceptual design through installation and beyond to content creation services, United Signs is your best choice for electronic signage, digital displays and LED signs . Our background installing, servicing, and training our customers to provide quality digital content to create the image and garner the attention desired are a significant competitive advantage that we bring to each new project.
LED Signs, such as electronic fuel price changers, electronic message centers, digital menu boards, and digital display systems are all products that we form fit to your project's need and your specific brand messaging..
Where more "green" and LEED products are requested every day, you can now illuminate almost any sign type with energy efficient LED lighting. While there is still a lot of similarity between Fluorescent & LED signage, United Signs LED
Illuminated Signs and Letters continue to surge in popularity with Metro-Atlanta and Georgia businesses.
LED Illuminated Signs and Letters have low energy costs and zero waste emissions and only require 12 volts to run. Even though the initial cost of LED signs may be more compared to fluorescent tubes, you can recoup your investment with reduced energy consumption over a short time.
United Signs LED Illuminated Letters are also more resistant to shock and vibration than old neon-illuminated letters, causing fewer breakage issues during the life of your sign. In addition, LED signage and letters provide excellent cold weather performance and brightness, while neon illumination can have a lower level of light emission in colder temperatures.
Already have fluorescent signage? United Signs can retro-fit your existing signage from neon lighting to energy efficient LED illuminated Signage.
At our premier Atlanta sign company, the application list for LED Illuminated Signs and Letters is vast – ranging from external signage and interior displays, to architectural lighting. At United Signs, we design, manufacture and install LED Illuminated Signs and Letters that make your sign's first impression, a lasting – and eco-friendly – impression.
Contact us today at 678-203-6044 for a Free No Obligation Quote and find out how United Sign's custom LED Illuminated Signs and Letters can make sure your Metro-Atlanta and Georgia business get noticed – and bring some "green" into your business.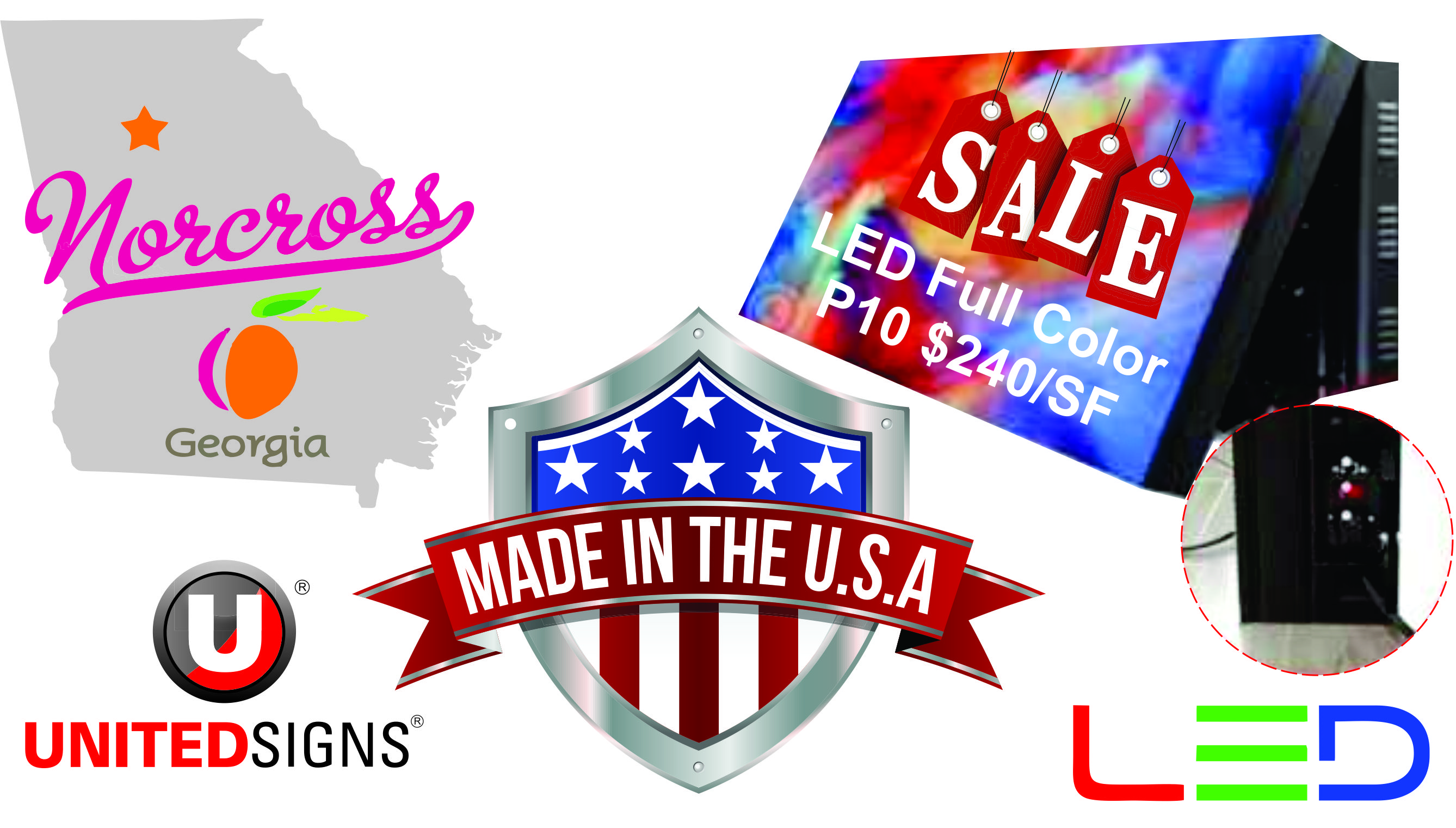 Community
Education
Civic/Municipal
Medical
Professional Services
Worship
Commercial
Automotive
Convenience Stores
Financial
Multi-Tenant
Restaurant
Retail
LED Types
Indoor/Outdoor LED Signs
Indoor Digital Display Systems
Fully Integrated Design
Permit Procurement
Indoor/Outdoor Support Structures
Advertising Content Creation & Management
Technical Support & Maintenance
Entertainment
Arts and Theater
Hospitality
Sports and Convention Venues
Digital Outdoor Advertising
LED Products
LED Signs
LCD Panels
Electronic Message Centers
Touchscreen Kiosks
Architectural Surrounds
Wall Mounts
Video Walls
Spectaculars
Room Signs
Projection
Audio/Video
Scoreboards
Stadium Displays